It took a Village to make this album.
This album was the collaboration of 37 Musicians and one dog.
Here is LJ's All-Star Revue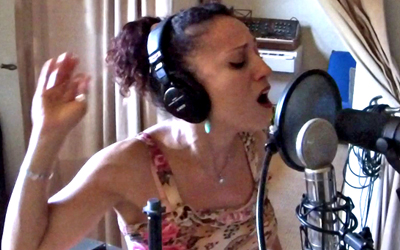 Nehal Abuelata – Vocals
Nehal Abuelata is a soulful San Jose-based vocalist & songwriter born in Cairo & raised in Paris. She is known for being the front woman & lead singer of Rock-Soul-Funk group Sweet HayaH, where she composes, plays keyboard, guitar & melodica. She's also the lead singer of Vintage-Blues & Roll group Grace & the Grit, where she plays rhythm guitar alongside her fiancé & lead guitarist Austin Geiger. Together, they also formed a French Classics Duo called Amour de Seine.
Nehal has been an active performer & recording artist in the Bay Area, France & beyond for over a decade & has more recently become one of the core members of the Bay Blue Notes: the official band of the NBA Golden State Warriors. In 2019, she sang at the Warriors' Halftime show in celebration of their first preseason game for the team's debut at the Chase Center. She can be found at: Www.sweethayah.com
https://sweethayah.bandcamp.com
https://m.facebook.com/sweethayah
https://m.facebook.com/GraceandTheGrit/
https://m.facebook.com/amourdeseine
Www.amourdeseine.com Youtube Channel
https://tinyurl.com/y3soejhf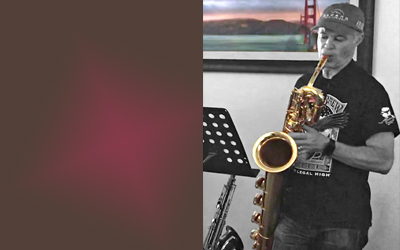 Lincoln Adler – Sax – Backup Vocals
Lincoln is an SF Bay Area-based saxophonist, producer, composer and certified yoga instructor. He has performed and recorded with many wonderful artists including actor/musician Jeff Goldblum, K. D. Lang, The Jets, Olivia Newton John, and Killy. As a producer and composer, he's had music included in movies, national TV commercials, industrials and on numerous albums. His boutique production companies – Groove Tonic Media and Executive Branch Productions – help talented artists realize their creative artistic recording potential. Lincoln is profoundly interested in all aspects of creativity, in what makes us tick as both individuals and as artists, and in how to lead a life of success and happiness in the modern world. He can be found at: http://lincolnadler.com/ http://times4music.com/ http://lincolnadler.bandcamp.com/ http://groovetonicmedia.com/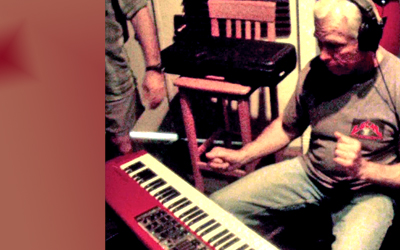 Wayne Baldwin – Keys
Wayne has been playing the piano since he was 7 years old, when he began taking classical piano lessons. When he first heard jazz music in his teens he was hooked. For years he played at home alone with an occasional jam session. When he met Daryl Patrick, who already had a jazz group going, he was invited to sit in and, finally was included in the group, the Daryl Patrick Jazz Ensemble (DPJE). Since then he has played
with numerous jazz musicians in the SF Bay Area. It was Daryl who introduced him to Larry Silveira who, in turn, invited him to play his music.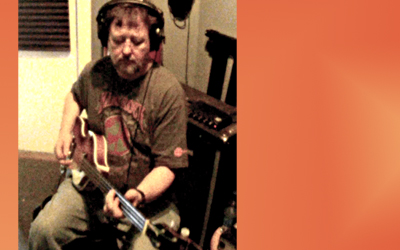 Bryan Barrow – Bass
Bryan has sung and played bass and guitar in numerous Bay Area cover bands over the past 20 years, as well as in the popular BC roots music/folk band Shades Of Green. (https://tinyurl.com/y2g3e3wz). His passion for playing the music of the Beatles, and the Power Pop artists they inspired, continues to this day. Bryan firmly believes that a Rickenbacker 12 string played through a Vox AC30 is one of the most perfect sounds in the universe. He is currently working on a followup to his 2017 CD, "Out Of My Mind". He can be found at: http://www.afiendishthingy.com/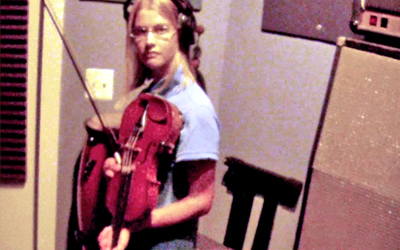 Catherine Borst – Violin
Catherine began playing violin at age 5 and was classically trained in the Suzuki method before branching out into traditional music. She is currently a member of the Gaelic Muses, an Irish inspired folk rock trio in Sunnyvale, California. She can be found at: https:// tinyurl.com/y65gmdus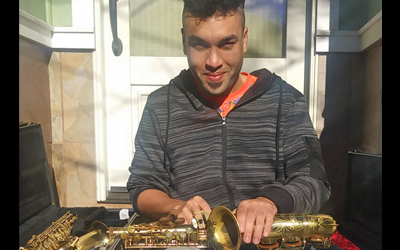 Brendan Buss – Sax
BRENDAN is a local woodwind player who can be heard in numerous bands and settings. A graduate of Sonoma State University, he enjoys creating many types of music with groups like Jazz Fourtet in Oakland, Pat Jordan Band, Hour of Tower (Tower of Power Tribute Band), Black Sheep Brassband, and many other sideman gigs. Recent musicals include In The Heights-SRJC, Cabaret-Lucky Penny, Shrek the Musical-Raven. Currently Brendan works with VIVO Valley Vibes Orchestra in Sonoma, teaching recorder and ukulele.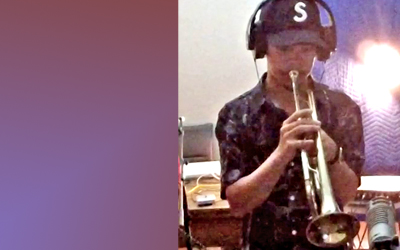 Jacob Cabral – Trumpet Backup Vocals
Jacob is a Bay Area trumpeter and general music teacher, having received his Bachelor of Music in Jazz Studies with high honors, Summa Cum Laude, from San Jose State University. Prior to attending SJSU, he received his Associates degree in Music from Skyline College. Although he has a degree in Jazz Studies, Jacob plays a wide range of styles of music, including classical, Latin, and rock.
Jacob has worked and studied under many of the world-class Bay Area musicians including Tom Bertetta, Erik Jekabson, Chuck MacKinnon, Mario Guarneri, Mike Galisatus, and Jeff Lewis. After working with such tremendous teachers, Jacob has gone on to receive numerous jazz soloist awards from various festivals around California. More recently, Jacob has played and studied abroad in Cuba. These days Jacob performs, maintains a private studio, and teaches in various band programs in the Hillsborough School District, St. Roberts Catholic School, and the Stanford Jazz Workshop Giants Steps program.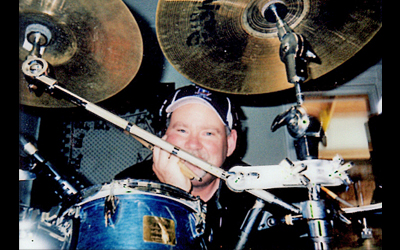 Bruce Campbell – Drums
Bruce Campbell has been playing, recording, and teaching drums in the Bay Area for over 40 years. Accomplished in many styles including rock, pop, combo and big band jazz, funk, R&B, musical pit styles, soul and latin, he has toured nationally and internationally, and has performed extensively with TheatreWorks, Princess Cruise Lines, and other professional musical theater organizations doing pit orchestra work for over 90 musical theater production runs.
Bruce has been a member of local bands Enigma, Concrete Buddha, Missing Lynx, The Attitudes, Mack The Knife, Lights Out, The Shanks, Phil 'N The Blanks, REO/Styx Experience, and the Nineteen Jazz Orchestra (with which he's performed for over 17 years). Campbell is also an exclusive user of Yamaha drums and hardware as a Northern California Yamaha Drums Regional Artist Endorsee.
Bruce has recorded and performed with many world-class musicians including Dave Weckl, Steve Smith, Brian Bromberg, Tom Kennedy, Wayne Bergeron, Chris Cain, Gordon Goodwin, Horace Alexander Young, Hafaez Modirzadeh, Russell Ferrante, Jamie Davis, Dave Liebman, Ali Ryerson, Dee Daniels, Kim Nalley, Ernie Watts, Don Menza, Grant Geissman, Juanita Harris, Madeline Eastman, Carl Saunders, Wayne Wallace, Eric Miyashiro, Greg Adams, and Jeff Lorber.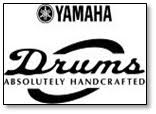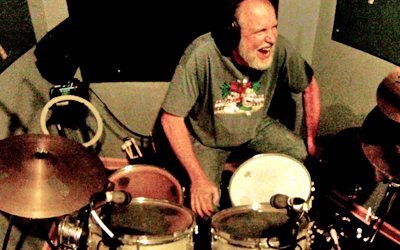 Hal Dahlmeier – Drums
Bio coming soon.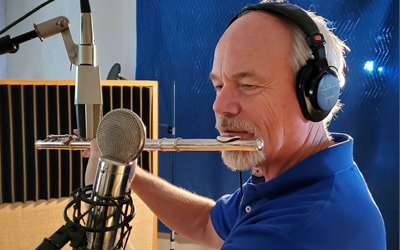 Ken Deaver – Flute Backup Vocals
When Ken was 18, he was working for the Ironworkers Union in San Francisco. He had no previous musical experience, but—unlike his badass coworkers—he took his earnings and bought a silver flute in 1970. With a few lessons here and there, and a lot of bad notes in between, he learned to play improv—rock 'n roll and jazz—largely "by ear". He also picked a saxophone along the way, but he relies mostly on the flute to get him by. He always played music during his travels—on street corners, in transit stations, cafes and around campfires—from Paris to Marrakech, Kashmir to Kathmandu, and beyond. He played in the Cabrillo Jazz Program for a couple years, and helped get the Kuumbwa Jazz Center into their current home. In 1978 he had the great fortune to be introduced to Larry Silveira, and he has enjoyed accompanying him ever since.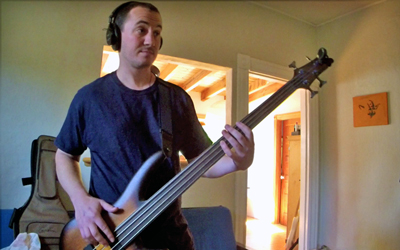 Eric Folsom – Bass
Bio coming soon.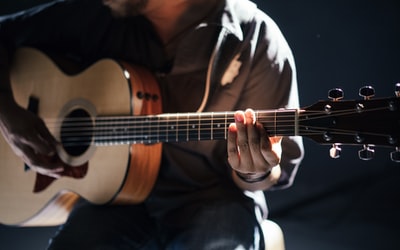 Mark Fuller – Mastering
Mark Fuller, mastering engineer, has a long history performing and recording as a drummer/percussionist, tabla player and founding member of Gamelan Tunas Mekar.
Over time his career emphasis moved towards production leading to countless recording, composition and sound design projects with his own band and countless others.
Theater, dance, museum installations, radio, tv, movies and bizarre performance art projects too scandalous to mention continue to the present.
Mastering, however, has become his primary professional focus over the last 15 years. He can be found at: www.markfullermastering.com/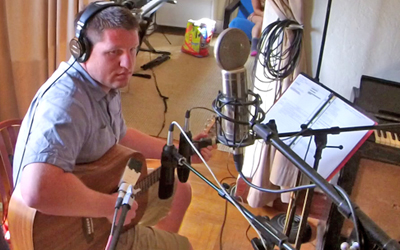 Austin Geiger – Guitar
Austin Geiger is a Bay Area musician and guitarist who channels heavy Blues, Soul and Rock influences. Previously a member of Mr. Rosenbloom's Tangerine Machine (Classic Rock) and The Hip Hop, Soul collective Focho, Austin currently is a songwriter and lead guitarist for the band Grace and the Grit alongside his fiancée Nehal Abuelata. Together, they have also formed a Classic French musical duo called Amour de Seine, as well as a traveling original music duo under the name Nehal & Austin, which has just completed a cross-country Nature Music Tour. He can be found at: https://m.facebook.com/GraceandTheGrit/
https://m.facebook.com/amourdeseine
www.amourdeseine.com
Youtube Channel
https://tinyurl.com/y3soejhf
Lydon George – Rap
Lydon George (L To The…) is an urban lifeform, Hip-Hop purveyor, culture espouser, social equity influencer, writer, beat-maker and performer from Gilroy, CA. His musical achievements include rapping with a mixed up funky rock blues band from the Bay to LA to NYC, performing in street shows all over India, and being featured on Larry Silveira's album. He can be found at: https://tinyurl.com/y5xpy68b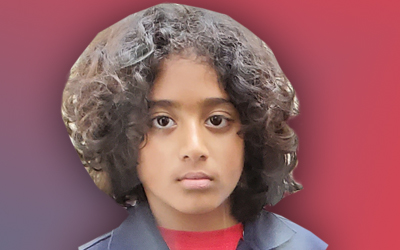 Cyrus Ghazi-Moghaddam -Vocals
Cyrus gave it his all, this his debut album, "My Dog Fuji." He enjoyed the recording so much that he returned for an additional session and is the voice at the end to beckon Fuji on the bus. He enjoys playing Xbox, playing bingo with the family and reading books.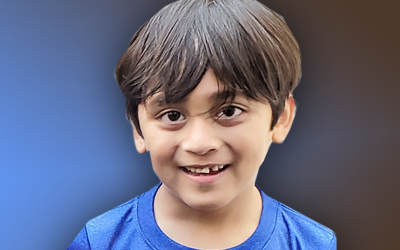 Kyle Ghazi-Moghaddam -Vocals
Kyle added the spice with his back-up vocals to "My Dog Fuji" on this his debut album. He showed the talent and focus producers yearn to see in their performers. He enjoys reading books, play Xbox, hoverboard and playing bingo with the family.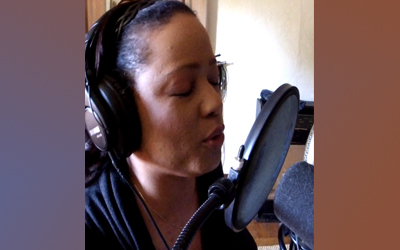 Veronica Giles – Vocals
Bio coming soon.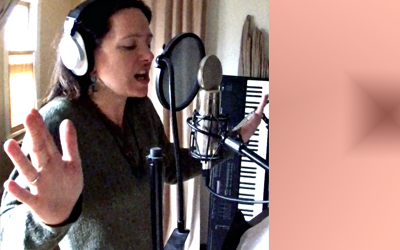 Shawna Herve – Vocals
Shawna is a native of Sonoma County and an alumni of the Sonoma State University music department. She has been singing in bands since the age of fifteen exploring folk, rock, funk, blues, jazz, R&B, reggae and country. Her first album of original music, Material Ghost, was released in 2008 and her EP, See Yourself, was released in 2011. She is currently working on another full-length album. She can be found at: Reverb Nation: https://tinyurl.com/y6blm2bf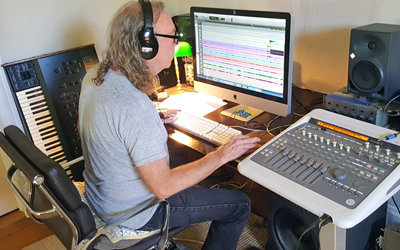 Paul Lamb – Bass & Engineer
Paul has played bass, mixed live or recorded in the studio with major artists like; Tom Waits, Jonny Otis, Shuggie Otis, Sammy Hagar, Kitaro (and a Grammy nomination in 2017) Jefferson Starship, Michael Anthony (Van Halen), Ronnie Montrose, David Grisman, The Tubes, Country Joe McDonald, Quicksilver, and many more. Paul has toured the world (for many years) and misses all that.
Paul is also the owner of Rue Henry Studio, the goal always is to get the best of the artist – no matter what style. To be near the music has been a lifelong goal. He can be found at: http://californiapaullamb.com/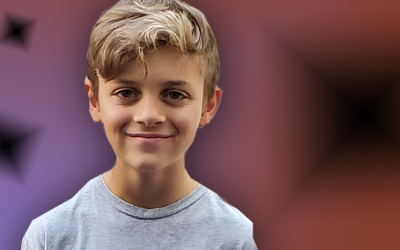 Maddox Leon – Vocals
Maddox's was excited to participate in this his debut album as one of the backup vocalists for "My Dog Fuji." The money was good and hopes its his start to something big. He enjoys video games, Marvel Comics & Star Wars.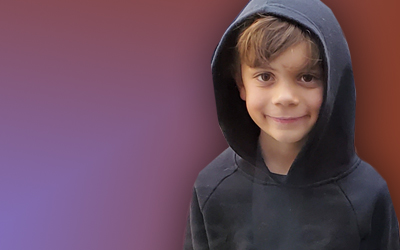 Quentin Leon – Vocals
This is Quentin's debut album as a paid backup vocalists for "My Dog Fuji." He was serious about his commitment to do the best he could. He loves video games, Marvel Comics & Star Wars.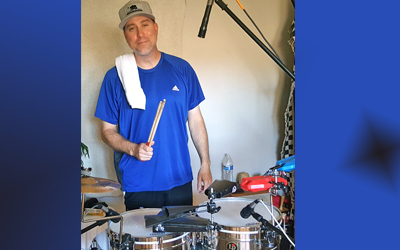 Mingo Lewis, Jr -Percussion
Bio coming soon.
Mike Lounibos – Vocals
Bio coming soon.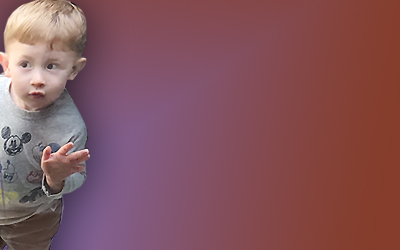 Benicio Kal-El Mayorquin – Vocals
Benny was excited to participate as one of the backup vocalists for "My Dog Fuji" in this, his debut album and before the age of 2. His first music training was attending music class at Gymboree. He practiced his lines repeatedly and excelled in saying the word, "No!" He is inspired by the music from "Moana." Things that make Benny happy include cookies, flowers, people, Mama, Dada, Toby, Papa, Grandma, crafts, pomegranates and Benny! He's not certain of his career goals at this time but hopes music will be one of them.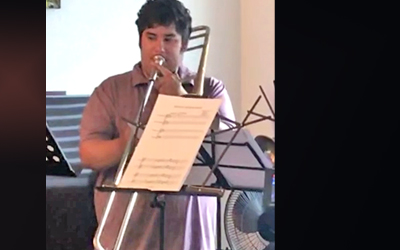 Ryan McCray -Trombone, Backup Vocals
Bio coming soon.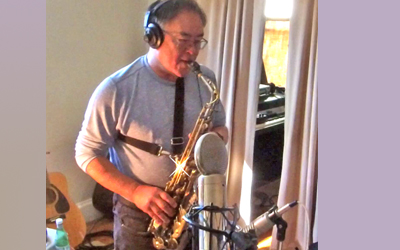 Steve Nakano – Sax, Backup Vocals
Steve Nakano grew up in Los Altos, California and attended public schools at a time when all students were offered an opportunity to learn to play music, sing and to appreciate art and sports in addition to other academic subjects. Music has brought Steve many years of joy and friendship among musicians and music lovers. And, he is thankful to the music fellowship and the many friends, who have supported him and live music everywhere. SNQ (Steve Nakano Quintet) performs a wide range of music from jazz to classic rock and R&B, to Motown. Even as a jazz band, we tend toward the funky! He can be found at: https://www.facebook.com/Steve-Nakano-Musical-Events-246071042123228/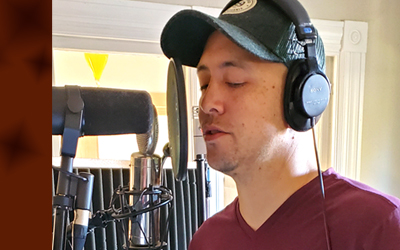 Genji Nakano – Vocals
Bio coming soon.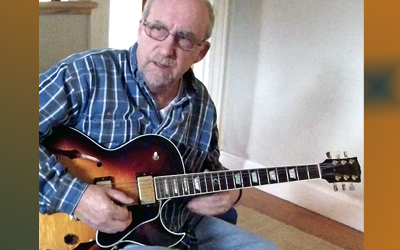 Steve O'Rourke – Vocals
Steve O'Rourke has been playing guitar for over 50 years. He has been playing in a jazz band and a blues band for the past 20 years, gigging regularly in and around Sonoma County. He is currently focusing on songwriting, recording and producing CDs of his originals.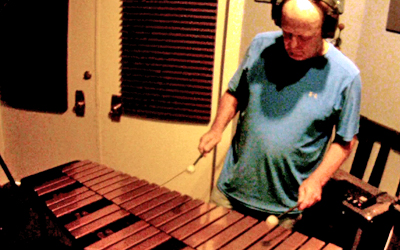 Daryl Patrick – Vibes
Daryl Patrick professional musician for 57 years. Studied music at Miami Dade college in 1969. Musical influences consist from B to Z that is The Beatles to Frank Zappa.
Musical instruments : drums, vibraphone, xylophone, cajon, bodhran, congas, bongos, lions roar, tablas, piano. Genres jazz,blues,rock n roll, Celtic, folk and classical composition. Grateful to have performed and recorded with Larry.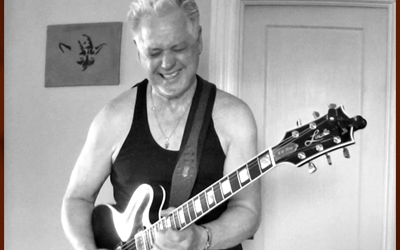 Greg Price – Guitar
Bio coming soon.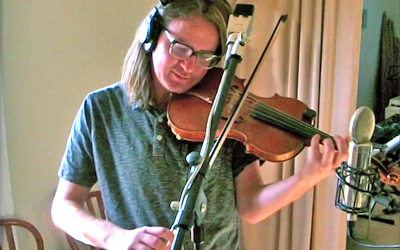 Jan Purat – Violin
Jan (pr. "Yahn") is a California Violinist and fiddler born and currently residing in Berkeley CA. He attended college at UC Santa Cruz, graduating in 2013 with a degree in violin performance. He is fluid in variety of styles, with a focus on Bluegrass and Americana music. Jan is the current fiddler for Bay Area band AJ Lee and Blue Summit. Over the years he has performed and recorded with a myriad of west coast bands, including the Caleb Klauder Band, Western Centuries, Steep Ravine, Salami Rose Joe Louis, Front Country, Hot Buttered Rum, Poor Man's Whiskey, and many others. In his spare time he enjoys backpacking, photography, and scheming on his 87 Toyota Van. He can be found at: Instagram – @jannifiddle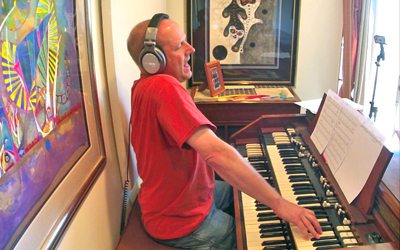 Greg Sankovich – Keys
Greg was classically trained since age 5 and has been performing on keyboards and producing music professionally since he was 12 years old. He studied with some of the finest jazz and latin performers in the San Francisco area including Al Zulaica, Mark Levine, Art Lande, and Susan Muscarella. After graduation from UC Berkeley where he was an active member of the UC Jazz Ensembles, Greg moved to Japan with the jazz fusion band, Taikun, where he lived for over a decade performing and producing music for many top Japanese artists. Since moving back to the SF Bay Area, Greg has contributed to an eclectic range of musical projects in styles from jazz to house to hip hop to pop as keyboardist, producer, musical director, mix engineer, dependable cable winder, and fledgling oenologist/tea specialist. His music production experience includes compositions for over 70 different film & TV programs and advertising jingles; producer/keyboardist on dozens of full length CDs; and session keyboardist for over a hundred recording projects spanning across 25+ record labels including Columbia, Warner, Maverick, Yoshitoshi, and Tango. In addition to his own band Times 4 (along with the esteemed Lincoln Adler), Greg has worked with artists Mike Stern, Shirley Bassey, Bobby Sharp, Brenda Boykin, Branice McKenzie, Ahaguna Sun, DJ Dan, Doc Martin, H Foundation, and Enrique Gonzalez Muller…His performance experience includes feature dates at the JVC Jazz Festival, SF Jazz, Russian River Jazz Festival, San Jose Jazz Festival, Koseinenkin Hall Tokyo, Yoshi's, Bach Dancing and Dynamite Society, Mountain Winery… He can be found at: http://www.gregsankovich.com/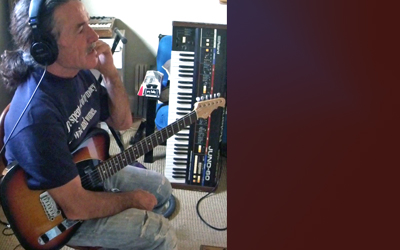 Matt Silva – Guitar
Bio coming soon.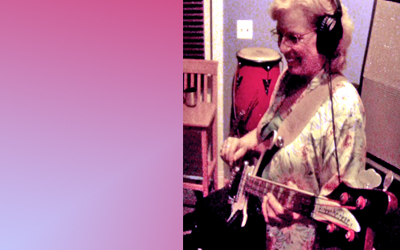 Cheri Silveira – Bass
Cheri met Larry back in 1976 and decided if she wanted to have a relationship with him, she needed to embrace his musical career. She became the sound engineer for his gigs, took bass lessons in 1979 (yes, he needed a bass player) and joined the largest garage band in San Jose after that. Cheri considers herself someone who loves music, will dance to anything with a beat, and loves the incredible creative musicians that have joined her in life. She can be found at: https://tinyurl.com/y4hqv5ra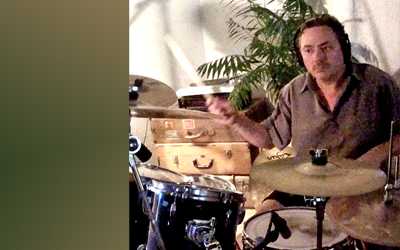 Paul Spina – Drums
Paul is a working musician in the Bay Area and has been for 25 years. Currently with Mike Love ( not the former beach boy, the other Mike! ), Rising Tide, and Sol Horizon. Formerly with Groundation, Cannonball, Mason Lane, Legion of Mary, Les Claypool and many others.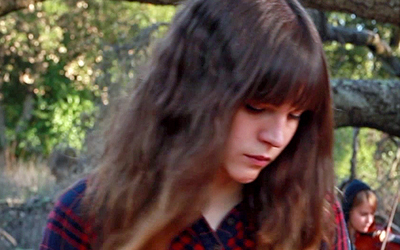 Christy Vrooman – Vocals
Bio coming soon.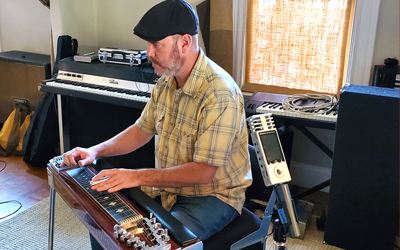 Josh Yenne – Pedal Steel, Guitar
Josh Yenne is a multi-instrumentalist and songwriter from Sonoma, CA. He has played all over the world at some of the most storied venues and festivals, including the Sydney Opera House and Coachella Music Festival. Josh performs and teaches pedal steel guitar, guitar, dobro, lap steel, and electric bass.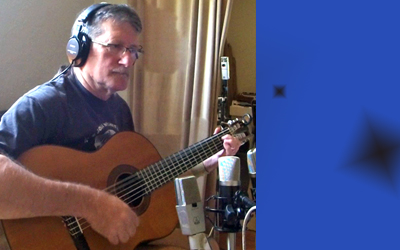 Larry Silveira – Guitar, Vocals
Larry's love of music began at an early age. By 15 he was playing acoustic guitar, upright and electric bass. Inspired at that time by such legends as Hendrix, The Doors, and Iron Butterfly, he founded and performed in his first band, Mr Rosenbloom's Tangerine Machine until his HS graduation in 1969. His hopes of becoming a music major in college were swiftly dashed when the draft during the Vietnam War called him for his alternate service as a Conscientious Objector affecting his career change from music to psychology. He performed in the duet folk rock band, Salomon & Silveira ignited at the time by Traffic, Santana, Mark Almond and prog rockers Yes, King Crimson, Gentle Giant, and Genesis. Pursuing his day job he left music as a hobby and formed the sometimes 9-piece garage band, The Attitudes, which provided him with a musical fix for 35 years. Jazz fusion completed his music interest with Yellowjackets, Robben Ford, Jeff Lorber, Times 4, & Casiopea. With the completion of this album he hopes to continue his journey to play in open mic venues in all 50 states.
Fuji
Fuji is a chihuahua terrier in his senior year of 13. But boy that won't stop him spending his day looking out the front window for "the man, another dog, and the lady." His favorite thing to do [besides getting his next meal] is running with a small toy school bus in his mouth to greet anyone that walks into the house. His classic bark at the end of the song, "My Dog Fuji" is something he practices every day.