About This Album: I Have Something To Say
Music has been Larry's passion since he started playing at 15, but not his profession. Three years ago his friend sent him his mastered CD. He was amazed by how incredible it sounded, and the musicians that backed him. Cutting an album of his most recent songs has been the only thing on his bucket list. So he started saving money, finding musicians for hire, and notated his tunes. In June, 2019 he headed to "Rue Henry Studio" in Cotati, CA to fulfill his dream come true. Now, after 7+ months, 36 musicians, and great engineering and mastering feats, He and his band, "LJ's All-Star Revue," are ready to present his 12 songs plus one instrumental version bonus track
In the end one's legacy is the accumulation of memories created, deeds done, and love given to others. It should balanced and filled with passion and humility.
LJ's All-Star Revue
"I Have Something To Say"
Buy the Limited Edition Double LP [Only 40 available]
OR
If you were a musician or support staff for this album and want to download the high res and/or mp3s digital files of this album read on!
If you were involved in the making of this album, the digital download option for you on this page has ended. But don't worry, just contact me and I will provide you with the download links to get the tunes.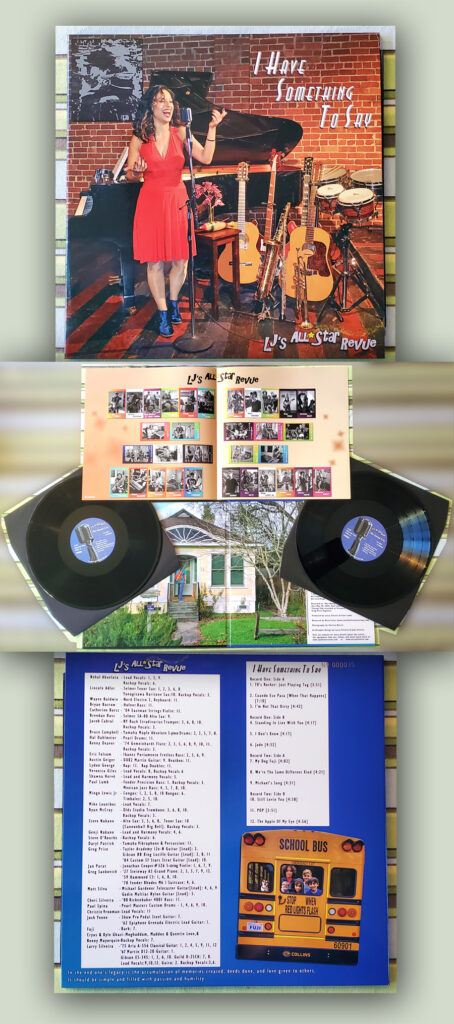 If you would like to Buy the Limited Edition Double LP [Only 40 available] Read On!
This is a Limited Edition, double LP. It was limited to 100 albums [only 40] left, each with a foil-stamped serial code on the back, a Japanese gatefold album cover, plus a 24″ X 12″ poster of the band members, Poly-lined sleeves, for added protection of the LPs, reusable album protector, and free digital download of all the tunes on the album plus instrumental versions of 5 of the songs [I'm Not That Dirty, Jade, Michael's Song, My Dog Fuji, and Standing In Line with You.]
Note: each side of the albums were limited to less than 16 minutes to permit maximum fidelity of the songs.
$26 shipping included [within the US].
TO ORDER THIS ALBUM click on the blue button to the left which will take you to my Bandcamp page. Then click on the "Buy Record/Vinyl" link